In the nearly ten years we've been open, what drives us to say "Yes!" to taking on a new foster cat or kitten is a gut feeling we get that "this is our next rescue kitty."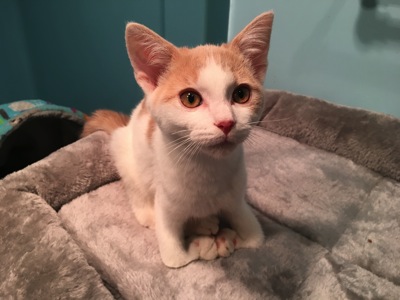 ©2019 Robin AF Olson. Flap doesn't know his legs bend the wrong way. Flap is 100% kitten. He loves life and everyone he meets.
When we first saw a tiny kitten, in a video posted on Facebook, we knew we had to do something. He was struggling to walk, dragging his right hind leg behind him, while his front legs twisted inwards into his chest. He was living outside on a deck with his furry family, waiting for someone to adopt him. His human family wanted him to go somewhere safe, where he would get the extra care he needed, but they weren't sure that such a person existed to provide that level of care. What if the kitten could never use a litter pan? What if he got sores on his legs? What the sores made it was too painful to move?
Their worst fear-what if they took Flap to the vet? The vet would tell them to put him down (which actually ended up happening).
Thankfully, his family protected him. They wanted him to have a chance to live so they said "NO" to putting the kitten down.
We reached out to them and offered to help. Luckily for us, they were willing to trust us with their precious boy. Sure, we had the same fears about how the kitten would do once he was with us, and wondered if he would be incontinent and have mobility issues that would make his life miserable, but we had to try. We would find a way. Then one day we'd find him a family who would cherish him and give him the forever home of his dreams.
We named him Flapjack Shortstack. Flap will probably be with us for at least a year, until he is fully grown. At that point Flap would be ready for any surgery, if we felt it was needed. We estimate that each leg could require $4000-$5000 in surgery fees OR maybe he won't need any surgery. It's too soon to know or get hung up on costs.

©2019 Robin AF Olson. Flapjack Shortstack.
Until then, how would we provide for Flap for so long? He'll likely be with us for a year without any buddies. It wouldn't be fair to him to be alone all the time, so we reached out to the owner and they were willing to let us take Flap's sisters, Sugarsnaps Sugarpants and Tickle Nurbington into our rescue program. Since we're not very good with math, we ended up with five kittens in total. Boom-Boom McGillicuddy and his bro, Trinket Worthmore, joined us, too.
So Flap has plenty of friends who love to play and snuggle with him (you can see them 24-hrs a day on our SqueeTV Web Cam).

©2019 Robin AF Olson. Test brace #1 (wasn't quite right so we tried again...then he popped brace #2 off so we're off for another test)
We're building our team of experts to help Flap walk better even after four Vets told us to put him down. Flap has a fire in his belly, a strong will to live. He doesn't let things get him down. Just because it will take time and resources to help Flap, that doesn't mean to save a buck we should end his life. That is just wrong. We do NOT DO THAT. Someone has to fight on behalf of the kittens who need the most help. How could we harm this kitten? Look at his face! Something magical is already happening. In Dr. Deb Weisman, at Newtown Veterinary Specialists, we found a great ally. When we asked for her advice she replied, "Let's fix him!"-NOT put him down. From day one she has been focused on finding a way that balances what is appropriate for Flap without causing him an unreasonable amount of discomfort.
Her approach is wise-do a little, watch and wait, adjust things here and there, respect that Flap already can get around just as he is now. The trick is to see if we can help him get around better, more comfortably and more appropriately.

©2019 Robin AF Olson. Flap loves getting physical therapy. It's helped him be able to move more easily.
Flap is also seeing his friend, Aunt Gail, who is a top notch physical therapist. Between his visits we continue the therapy sessions here every single day. Flap is stretching and moving much better than he did a month ago. A few days ago, he jumped up and off his bed and onto the lower portion of a cat tree-a normal thing for most cats, but for Flap it was a major achievement.
Flap will need us well into 2020, so we really need all of YOU to lend a helping paw. If you'd like to be part of our rescue team by giving a gift to provide for Flap so he can continue physical therapy and see our specialists, and provide essentials for Flap and his friends, you can do the following:
Gifts of ANY AMOUNT (You do not have to have a PayPal acc't) PayPal
Mail a check made out to: Kitten Associates. Send to Kitten Associates, P.O. Box 354, Newtown, CT 06470-0354
Donate on Venmo: KittenAssociates
Gift Cards to Your Healthy Pet in Newtown, CT needed, too!
We also have an Amazon Wishlist. We're a 501(c)3 non-profit so your donation is tax-deductible.
Follow Flap's Story on Facebook or check back here for updates.

©2019 Robin AF Olson. Flap with Tickle and Boom-Boom. Thank you for caring about cats and visiting our site. We're revamping our look later this year. Stay tuned for some awesome new features!