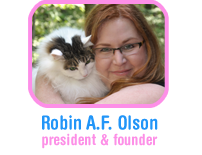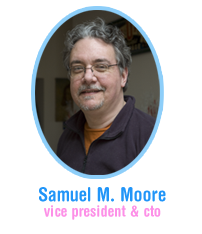 Saying Robin A.F. Olson loves cats is an understatement. Since Olson met her first cat at the age of 2, she's been smitten with kittens. But Olson, a graphic designer and writer, never dreamed she'd be able to combine her passion for words and images with her love of cats.
In 2006 she created a web site for her book project; "Covered in Cat Hair: The Mostly True Stories of a Life Spent with Cats." Olson hoped to "get discovered" by a publisher and surely fame and fortune would follow. What happened next surprised even her.
While fame and fortune never came to pass, Olson accomplished something far more important. When she learned about cats in the southern United States being euthanized in record numbers due to overcrowded shelters, the result of people not spaying their cats, she had to do something to help.
Olson called on her readers to get involved, to spread the word about "at risk" cats struggling to escape High-Kill Shelters and to donate funds to help make that happen. She led the ranks by example, left the rescue group she was with, and put her life savings into creating a non-profit corporation she named Kitten Associates, Inc., "the NEW Breed of Cat Rescue."
What started as a book project ended up changing her life and saving the lives of over 500 of cats across the country in the seven years since K.A. opened for business—and Olson has no plans of giving up any time soon. "As long as there's a cat in need, I'll be there to do what I can to help and continue to inspire others to do the same."
Robin A.F. Olson lives in Connecticut with an ever-changing number of cats. When not completely covered with cats, Olson's a Spotter for the National Weather Service and likes to do open mic stand up comedy. Really.
Sam Moore has vowed to repurpose a career spent advertising sugar and salt products into rescuing cats. Fortunately some of the skills he gained in a couple of decades of production work in the ad business are also useful to animal rescuers. As architect and builder of Kitten Associates' technical solutions, Sam enjoys the prospect of empowering volunteers, shelters and rescue groups to benefit animals in need wherever possible.
While saving a few furry friends may not attract as much attention as a POPAI award, Sam believes it's part of the greater human mission to care for other beings in samsara without prejudice or calculation.
A devout Buddhist, Sam says that "Since all beings have been our mother and cared for us at one time or another, it's only right to try to give back as much as we can. What else are we going to do with this lifetime?"
When not coding away in a little room under the stairs, Sam enjoys playing jazz guitar.
C Henrici