We just got our first Target Gift Registry! set up! So when you shop for yourself, you can add a few goodies for our kittens!
We're really excited for this opportunity because we have to purchase a lot of non-fun things like garbage bags and paper towels. If you help us with a purchase of those items, then we can steer more of our cash donations to vet care and cat food! Win-win!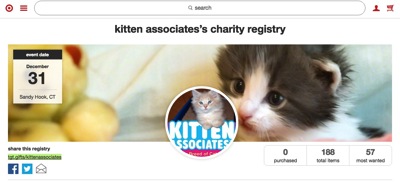 Thank you for supporting our rescue and caring about our little rescue babies. We can't save lives without you!